Building together: Muth, Lloyd share in family business success
Building together: Muth, Lloyd share in family business success
Doing business in the early 1980s wasn't easy. Trying to grow a business was even harder.
But those trying times bred a business relationship and friendship between Dick Muth, Craig Lloyd and their respective businesses and families that endures.
"From '80 to '85, his business was tough. Our business was tough. But all of us hung in there and got things done and made it," said Muth, who founded Muth Electric in 1970.
Lloyd had started building apartments and commercial projects. Muth was in Sioux Falls trying to grow his business. The builder and the electrical contractor began to work together. Trust was built along with buildings.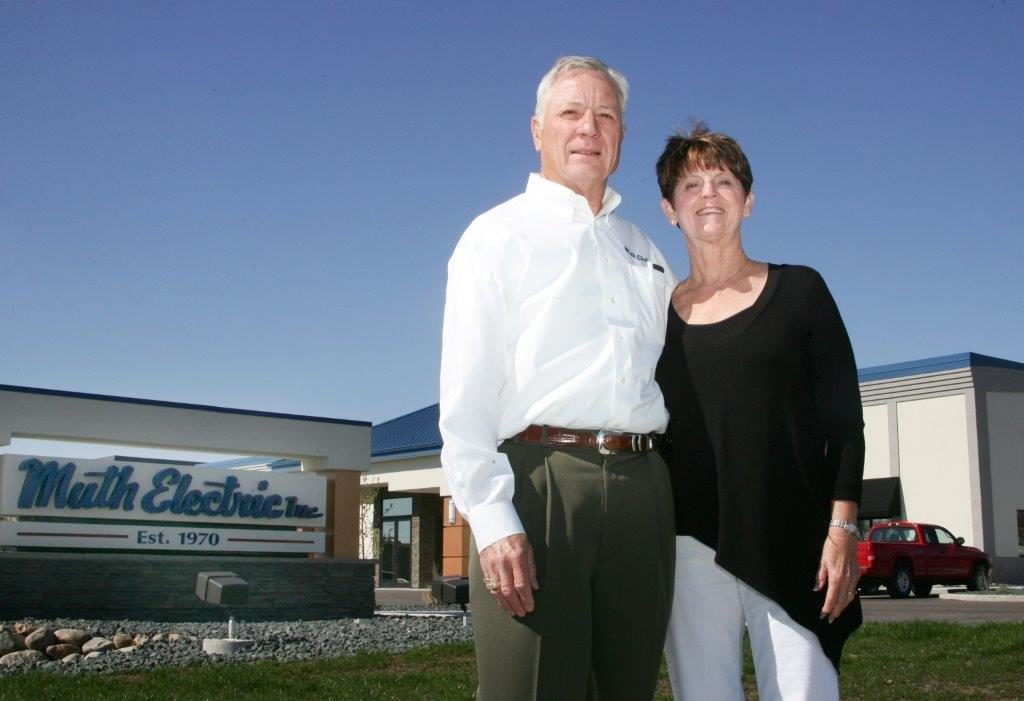 "He's done a lot of work for us. It's always been on the honor system, and that's how we did a lot of things," said Lloyd, who founded Lloyd Cos. in 1972.
"I call them Dick and his posse from Mitchell," he joked. "A bunch of wonderful, wonderful people."
The two businesses have worked together on projects in various capacities for decades. Muth Electric has been a subcontractor on numerous Lloyd Construction projects. The Muth family has invested in Lloyd developments. Lloyd's property management division manages some apartments owned by Muth. And Muth Properties, the family's real estate company, is working with Lloyd on one of the families' biggest collaborations yet.
A couple of years ago, Muth Properties bought 122 acres just south of Sioux Falls in Harrisburg. There was never a question who would help develop it.
But as the two companies work together to turn the former farmland into a mix of residential and commercial development, the founders aren't at the forefront.
Instead, it's the next generation of the family businesses – Muth's son, Ron, who manages Muth Properties, and Lloyd's nephew, Chris Thorkelson, the CEO of Lloyd Cos. – who are continuing and growing the relationship.
"It just felt like a natural partnership from the start," Ron Muth said. "You look at their expertise and what they've done in Sioux Falls over the years, and it was just a no-brainer. We wouldn't have even considered anyone else."
The second generation of the family businesses got to know each other best at annual hunts and on the golf course. Both say they clicked as easily as their predecessors.
"They're very humble people, and they're very successful and hardworking," Thorkelson said. "It's been really enjoyable working with them on the development. They're very knowledgeable about real estate. They understand that world. And they, too, are a family business that went through their own trials and tribulations."
Over the years, the families have talked about the unique challenges they face as family businesses.
Both are longtime members of the Prairie Family Business Association, and Lloyd's daughter, Christie Ernst, helped the Muth family establish similar governance as she did for the Lloyd family.
"Through the Prairie Family Business Association, they were on the leading edge in getting an advisory board going, and through Christie's help and Craig's encouragement, we got one going a few years ago," Muth said. "We trade stories back and forth about how we handle things."
They see each other at every annual association conference and others events and always find it valuable networking time, they said.
"It seems like every year you meet someone new, new potential contacts, new ideas, and you're with like-minded people," Ron Muth said.
Muth's second-generation success isn't surprising, Lloyd added.
"Dick has a really great family, very conscientious about the company and doing the right thing," Lloyd said. "They're a great family business. You've got brothers, uncles, working together, and they're pretty huge. They're in Rapid City, they're in North Dakota, they're down in Nebraska, and their service is always excellent."
So it's fitting that Lloyd decided to nominate Muth for this year's Vicki Clarke Family Business of the Year Award from the Prairie Family Business Association.
It was presented at last month's annual conference.
"I just thought it was a great family business to honor," Lloyd said. "And my soft spot is companies that give back. They're very philanthropic. They're a very, very giving family."
The relationship is a perfect example of what the association strives to foster in its members, said Rebecca Zabel, business development manager for the organization.
"Watching the Muth and Lloyd families grow together and help each other transition to the next stage of success for both is incredibly rewarding," she said. "We're proud to have played a role in providing them the resources and platforms to connect and collaborate. We know there are wonderful things ahead for both."
Muth Electric builds on decades of success with plan for the future