60-minute, topic-oriented, educational forums highlighting experts and family businesses
Transitioning Your Family Business: Succession Planning Tips to Think About Now!
Wednesday, October 18 | 10am CDT
Regardless of industry, size or line of business, all business owners must someday transition their business. Yet many studies find that about 75% of family businesses do not have a succession plan in place. No matter who the next owner of your business may be or when you plan to exit, transitioning is a major process that requires time and effort. It's a series of choices, assessments, and reassessments that can influence the way you run your business. Hear directly from Eide Bailly's transaction advisers as they talk about how to prepare for sale in the current market — even if you're not intending to sell.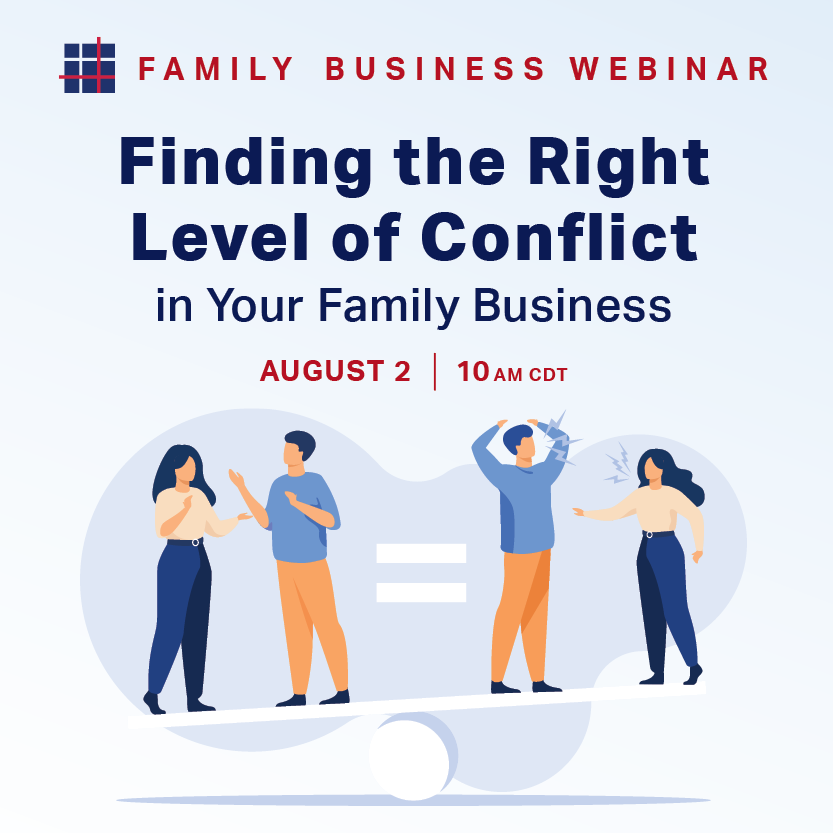 Finding the Right Level of Conflict in Your Family Business
August 2, 2023
Presented by Josh Baron
The reality is that unless a family's interests are perfectly aligned, a rare occurrence in my experience, some conflict is inevitable. Therefore, the priority is to manage it, not tolerate or eliminate it. Conflict that is not managed inevitably escalates. Participants learned how to better manage conflict in a family business.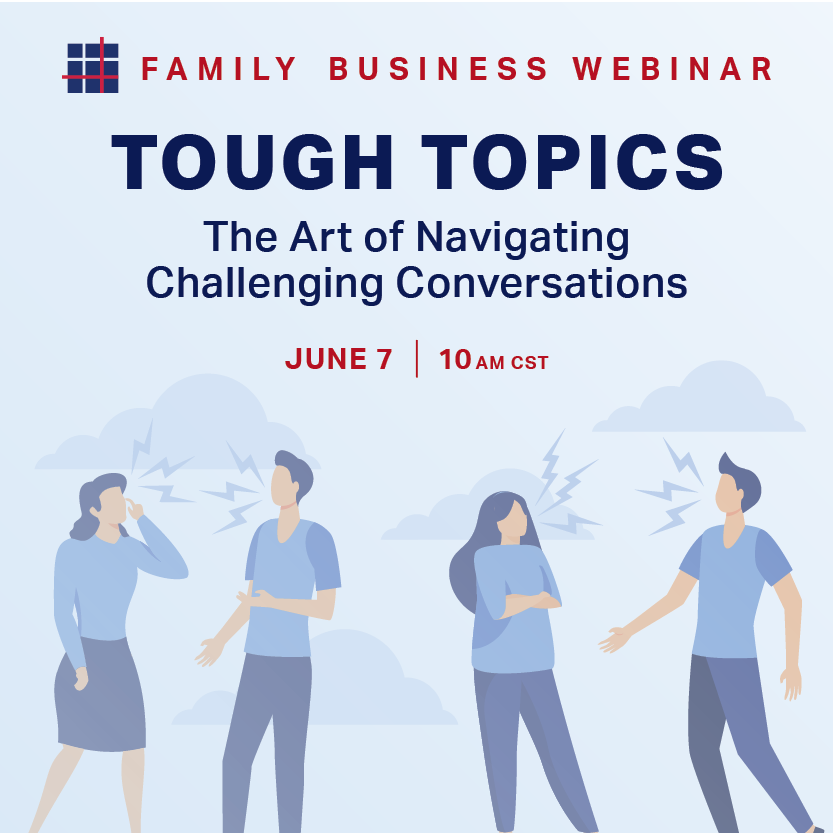 Tough Topics: Navigating Challenging Conversations
June 7, 2023
Presented by Dave Moffatt, Ginny Curley, and Tom Iverson 
We avoid them, we ruminate on them. And we know we need to have them for the good of our business and the good of our family. But why do some conversations seem harder to start than others? And how do we get started? This session gathered tips from those who have navigated tough conversations and have improved their relationships and their businesses.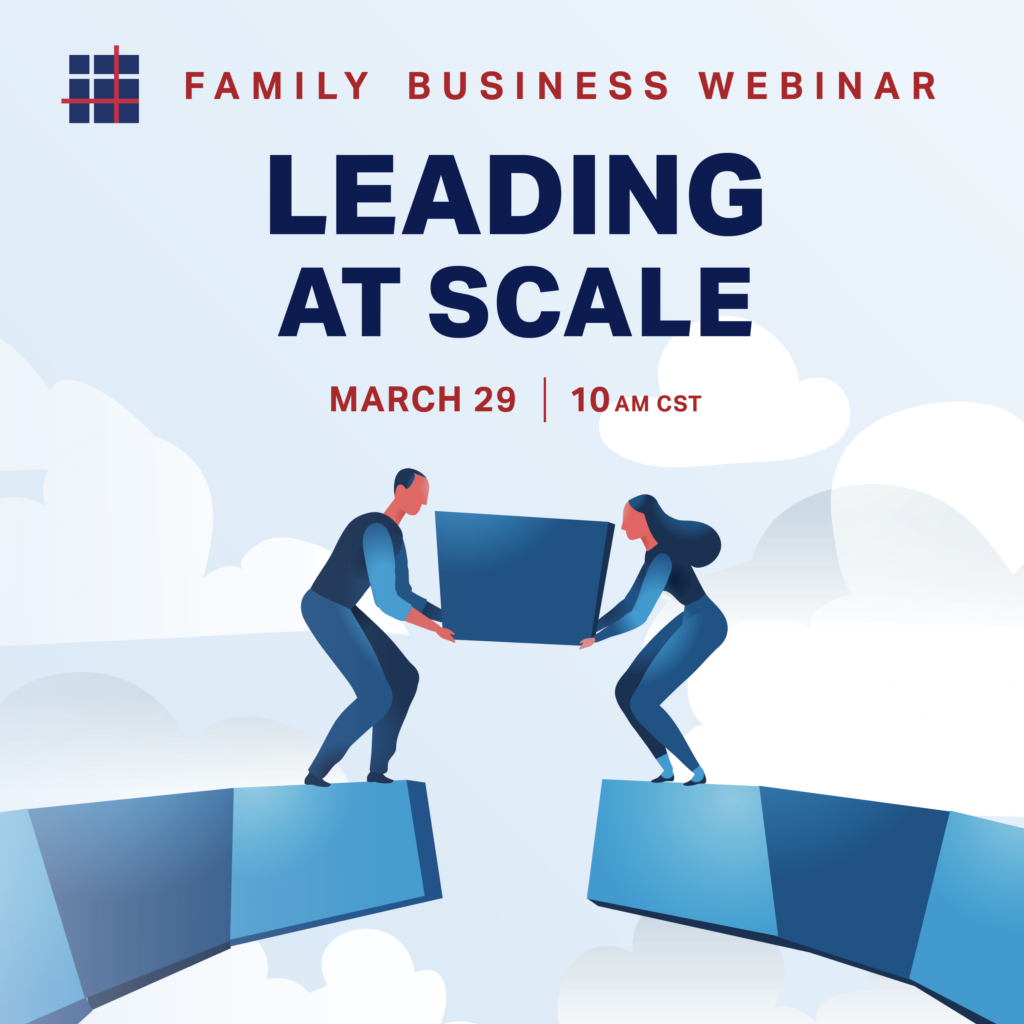 Leading at Scale
March 29, 2023
How do you scale a family brand without losing the heart and soul that has made it successful? Jessica Little, second-generation owner of Sweet Grass Dairy, and Meghan Lynch, CEO of Six-Point,  discussed the creamery's transition from a regional chef favorite to successfully scaling to national retail distribution.
Developing Yourself as a Leader
February 22, 2023
Leadership development was the highest desired topic theme according to our recent membership survey. Family business leaders discussed how they are developing themselves as leaders and shared how they are leading their business culture and leading relationships with employees, vendors, suppliers and family.
Panelists: Emily Schmitt, G3, Sukup Manufacturing, Sheffield, IA; Eric Sinclair, G5, Montgomery's, Sioux Falls, SD; Max Patnoe, G4, Liberty Superstores, Rapid City, SD
View Full-Length Webinars
Members, log-in to view these and many more full-length webinars.
Not A Member?
Join today to access these family business education opportunities and much more! Membership is affordable with all basic memberships under $1,000 annually.