From high schoolers mowing lawns, brothers become multi-location family business owners
Cole Weller acknowledges this is "the all-American story" of entrepreneurship.
He and younger brother, Brent, started Weller Brothers Landscaping while they were students at Brandon Valley High School in the early 2000s.
"High school kids mowing lawns – that's how we started," he said. "We just are the ones who never quit, and now we're here."
"Here" is a business with two locations – Sioux Falls and Rochester, Minnesota – 120 employees, a new acquisition, a new office and a big vision for the future.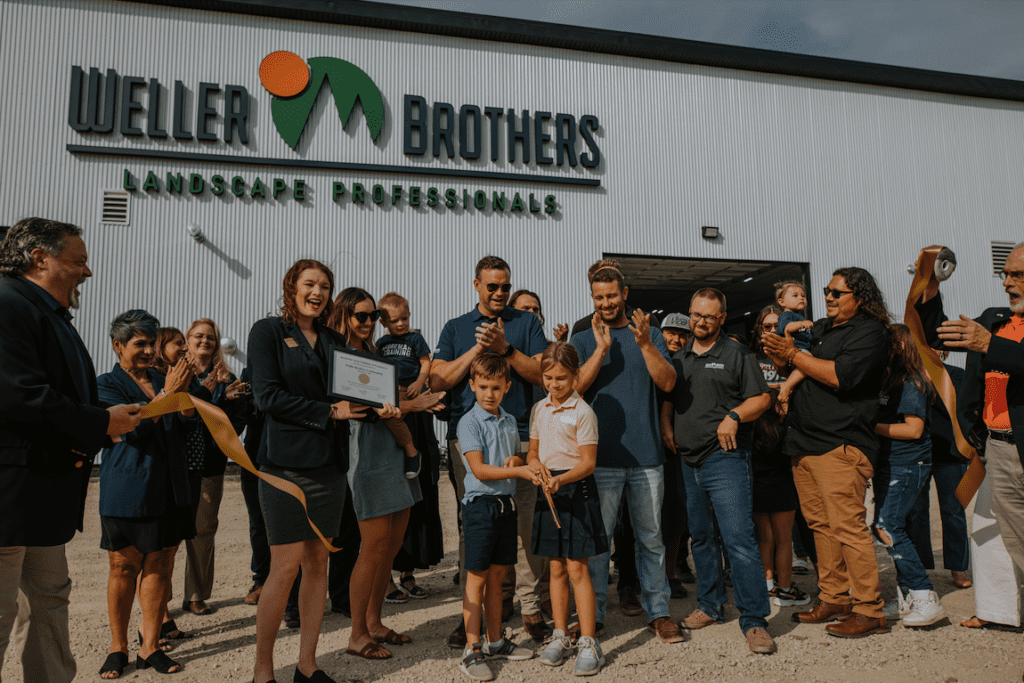 "It's been really, really good to us," Cole said. "No complaints."
Planting roots
For the first five years in business, the Weller brothers stuck to cutting grass. Then came the logical add-ons: fertilizing, power raking, sidewalk edging and snow removal.
By year seven, they'd added landscape architecture.
"I'm a sucker for good landscape architecture," Cole said. "So that's where the passion started. And, Brent and I were born and for the early part of our lives lived on a farm in central Minnesota, so there's always been a connection between the industry and our farm background, which taught us our work ethic."
Still, though, for the first 13 years of the business, "it was beer-drinking money," he acknowledged.
Then, in 2014, the brothers had what Brent termed their "come to Jesus meeting."
"We never really knew the possibilities until Cole was expecting his first child," he said. "He had an extra mouth to feed, so were we going to do this and grow it and see what we could do? That was when we strapped down and educated ourselves and got involved in our national association and had meetings with peers to bounce ideas off each other."
That was the "leap of faith" moment, Cole agreed.
"In our business, that's adding office and accounting staff, and now marketing and HR," he said. "But that's how to take the business to the next level."
Today, about 60 percent of the business comes from landscape architecture and construction. The remainder is property maintenance, everything from snow removal to pruning roses, cutting grass and fertilizing.
"And on the landscape side, our projects are significant," Cole said. "That's not to say we don't do smaller projects, but it's just how we've evolved and what we've become known for."
Expanded reach
In 2019, Brent and his family made a big move. He led Weller's expansion into Rochester, Minnesota, a community carefully chosen because of the demographic similarities to Sioux Falls.
"We're able to tell how saturated a market is for our target audience," Cole said. "Because we take on big projects, there has to be some discretionary income to build out a backyard. So that's a key metric."
But, unlike some companies, Weller didn't expand into its new market through acquisition. Brent and his project manager started from the ground up.
"We did it the old-school way and the hard way," he said.
"But it's gone very well. We just opened a new office and shop, and we've been adding a bunch of good team members. We have a licensed landscape architect here who does all our design and sales, and a couple great individuals who came from Mayo Clinic where they took care of historical properties, and they're doing a great job with our maintenance department."
Team members come to Sioux Falls to cross train and for an annual golf outing. Cole and Brent do an hourlong call together every Monday, and they're both part of weekly leadership calls.
"We communicate frequently," Brent said. "We have a good professional relationship, but we also try to keep the family stuff separate from the business. When we come into the office, we have our business hats on."
The brothers are 21 years into the business, "and we have never thrown a punch," Cole joked.
"Keep in mind, the first years we were 15 and 16 years old, so it's been really good. We agree most of the time, and when we don't, we have always been able to come to a resolution. The biggest pros of working with family is you have the ultimate trust. There's no one you trust more than family and that's been huge, particularly in the expansion to Rochester."
Family + future
As it plans for the future, Weller Brothers has found value in becoming part of the Prairie Family Business Association.
"Prairie Family Business has been great for Brent and I, especially as we grow and start to navigate the more complex parts of being in business with family," Cole said. "It seems like everything is easy when you have five employees and two of you are family, and you blink your eyes and suddenly you've got 120 families depending on your business, and there are complexities that come with that."
Through the Prairie Family Business Association annual conference, the Wellers have met other families and experts.
"We've been able to ask different questions about specific situations we've gone through, and you realize nothing is unique," Cole said. "There are many other family businesses that have gone through the same thing, and building that network has been super helpful for us."
The conference often serves as a welcoming entry point for the association, executive director Stephanie Larscheid said.
"And we'll be announcing details of our 2023 conference soon, so watch for that," she said. "For families like Weller Brothers, the conference is a great way to be around other families who are in business together. They talk with other families and learn that they are not alone. Other family businesses and advisers can help them plan and prepare for the future."
And while the oldest of the Wellers' own children are still in elementary school, "a lot of what we've learned through Prairie Family is making sure when they do come in, it starts young and starts with showing everyone respect and making sure no matter what their role they're paid like anyone else in the position," Brent said. "So we've already had those conversations, even though we're a few years away from that happening."
In the meantime, Weller Brothers also continues to add to its services. At the Sioux Falls location, a recent merger with Action Lawn & Tree Service allows the business to expand into enhanced pest control and tree health, pruning and removal services.
"That's good for us because a lot of that work can happen in winter, so besides snow removal, we'll be able to offer other services," Brent said. "And the owner has a lot of knowledge in that area, which is newer for us, so it'll be nice for him to come here and help us get started with that as well."
Even heading into winter, though, "we're starting to book into 2023, and it's a similar situation in Rochester," Cole said. "We're busy. We've been able to keep up, but we have an army of really, really good people that show up and work their tails off every day, which is humbling for us to see."