*Part one of a series of stories about Prairie Family Business Association founding members in celebration of our 30th anniversary.
As an 8-year-old, Bill Shorma remembers shining shoes in the basement of a clothing store where his father owned a shoe repair shop.
He didn't realize it at the time, but he was learning business ownership from one of the best.
His father, Edward, would go on to be named the country's small-business person of the year in 1982, recognized by President Ronald Reagan. The son of immigrant farmers, Edward's work ethic and entrepreneurialism led to the creation of eight businesses supporting 1,000 employees.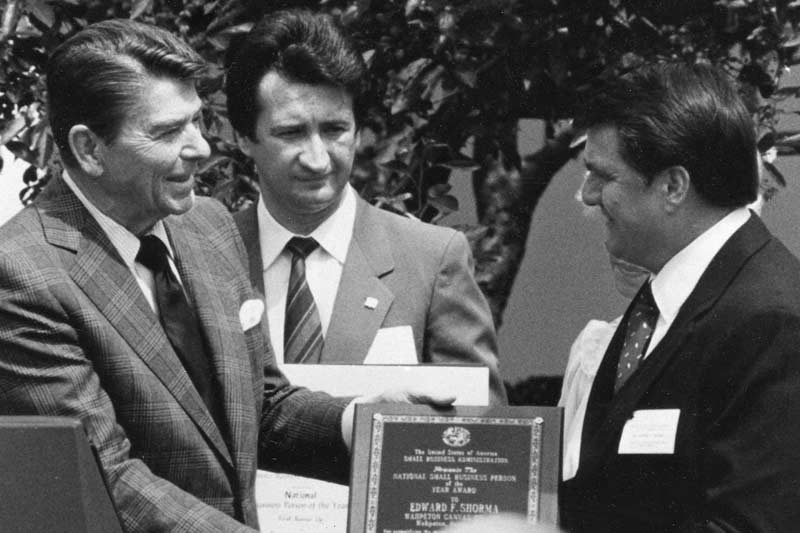 "As our company grew, I traveled all over the world with my dad, sourcing materials or buying equipment or pursuing customers," Shorma said.
"I was so blessed to have all those opportunities. It would not have happened in a different corporate environment instead of a family business. My dad is an amazing entrepreneur. And – not adjusted for inflation – it just happens that the company I run today is pretty similar in size to the one he was awarded for in 1982."
Today, Shorma finds himself in a new role. It's the first time in his career he hasn't been in business with his seven siblings.
He recently bought them out of Rush-Co, a company formed in 2009 following the sale of another family business. Rush-Co is a diversified manufacturing company with roots in North Dakota that now is based in southeast South Dakota in Springfield. The company excels at designing and producing custom fabric solutions for nearly any application.
"I was 35 years old when I took the business from Wahpeton to Yankton, and my seven brothers and sisters were my board," Shorma explained.
"So there could be a lot of noise in the boardroom."
Thanks to a referral from a fellow family business owner, Shorma became a member of the Prairie Family Business Association.
"It was in 1992, and I'd just moved the business to Yankton two months earlier," he said. "I went to a conference, and it was just a wealth of information. It was amazing, and they've all been amazing since."
With support and resources gained through the association, he learned how to establish more effective governance within the family business, add to a board of directors and delineate roles and responsibilities.
"Our father had owned 100 percent and could make whatever decisions he wanted, but as president, my operational responsibilities were separate from my owner and director responsibilities and different from my siblings' roles, so there were things to sort out," he said. "One takeaway I had very early was that from time to time you need to trim the number of shareholders as they go from generation to generation, otherwise they get so diluted nobody really has any interest in it."
That came full circle this summer after he thought he would retire and sell his shares to his siblings, and they asked him to buy them out instead.
"It occurred to me it would be the first time in 35 years I'm running a business for my direct descendants, so it changed the whole appeal of continuing to work," he said. "And if we had sold it, it probably would have been broken up into three entities, and I didn't want that to happen to a small community."
We sat down with Shorma to learn more about his family business journey and advice for others.
How have you used boards within your business?
We tend to present more like an annual meeting. We might have a challenge or policy we want feedback on and present it at a meeting, but I really think it's the same value, and that is the management team has to know that whatever they're working on and whatever they commit to, they will be held accountable at the upcoming board meeting. And if there are reasons they didn't achieve it, they need to be able to explain it. There's respect for people not within the company who have been successful in their own right. My management team really prepares for the board meetings because they want to make sure they don't leave any stone unturned, and every now and then, there's still a question that pops up that shows us there's some work to do.
Experienced board members are very important, particularly those in the kind of business you're in. When we look for new board members, we look for family business-oriented background — that's very important — and we base it on what other talents and skill sets we need for the board — maybe we need sales or marketing or engineering or operations. You can hire people with finance and legal expertise, but you can't hire the presidents of other companies who have lived through some of those things that need to be dealt with once in awhile.
What do you keep in mind as a member of the board to make sure you're effective in the role and that it's fulfilling for you?
I think the greatest impact we have is forcing the management team to prepare for the board meeting. They have to review what they said they were going to do, report what they did and what they're going to do going forward, and I think that's the greatest responsibility. And because I've run larger companies than the boards I served on, when they're looking at something that seems very complex to them, to me it seems like a layup because I've gone through it. And I enjoy being a mentor to the president, who typically serves as the chair, because they can discuss things with someone who doesn't have a dog in the fight rather than another shareholder. So making myself available for those questions is of great value.
How are you looking ahead to the next generation?
All three of my daughters have worked for the business, but they don't live within working distance and are in different industries. But they'll be involved in the board so there's transition in the event of a crisis, but the idea they would work there on a full-time basis is probably not in the cards. It's more likely that we'd sell it to a group of people on the management team five or six or seven years down the way. So today, I'm in the process of setting up a way to award them phantom stock to help them should they decide to purchase the business down the road.
What advice would you give to others going through a transition?
There's lots of reasons to go through transitions, so every situation is unique, but I'll share a bit of advice a private equity broker gave my dad when he was looking at selling a company 20 years ago. It was that investment bankers that buy businesses buy them every day. You sell a business once or twice in your career. They're better at it than you will be. So work with a professional that sells businesses every day.
What value did you see in the Prairie Family Association years ago, and how has that evolved to today?
Right away, it introduced me to family business owners in South Dakota that I could get to know and bounce things off of, and eventually I was invited to apply to a couple of other private company boards. Those were great experiences, helping other family businesses through conflicts and challenges, and having the tools Prairie Family Business has provided over the years has allowed me to give back to other businesses. I've been a student of the governance side. I don't get too emotional, so I can sit in on meetings where family members are getting a little wound up and help them sort it out.