The PFBA recognizes several exemplary family businesses each year with an "Excellence in Family Business Award".
Family Business Award recipients selected demonstrate the following qualities:
Multi-generational – At least two generations are currently working in the business, or the business has already transitioned from one generation to another within the family.
Contributions to community – Contributions are made through leadership roles, volunteer service and/or financial support.
Character – Integrity and honesty are values of the family business.
Employees – The business genuinely cares for the personal well-being of employees and recognizes their contributions to the success of the business.
Success – Proven success and growth of the family business since its founding.
Awards recognize local family businesses who have been committed to excellence throughout multiple generations. Award events include a tour of a local legacy family business, which includes behind the scene stories and facilities. These are local awards sponsored or endowed by an individual family and include an intimate dinner.
Vicki Clarke Prairie Family Business of the Year Award. The recipient of this award is selected from the annual local award winners. This prestigious award, in memory of Vicki Clarke, is presented at the annual conference.
Heritage Family Business of the Year Award. This award is presented each year to a family business that has been in business for 75 years or longer.
2017 Heritage Award Recipient
The Brockelsby Family
(Left to right) Joe Maierhauser, CEO; Janet Jacobs; John Brockelsby; Jeff Oldham; Judee Oldham; Jeff Brockelsby
The Brockelsby Family founded The Black Hills' Reptile Gardens® in 1937 and today, the popular Midwest tourist attraction is still under ownership of the same family. Today, Reptile Gardens hosts more species of reptiles than any other park or zoo in the world. Since its founding, the Garden has provided a great entertainment experience for literally millions of visitors.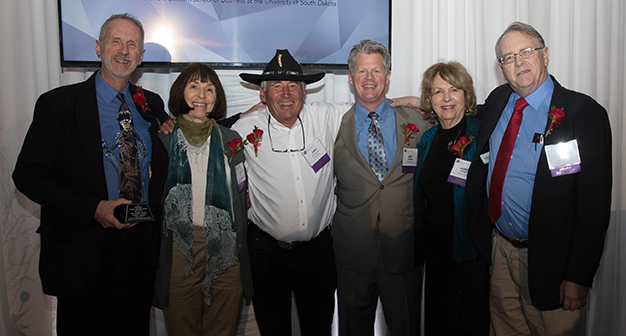 2017 Vicki Clarke Business of the Year
The Thompson Family
(Left to right) Tracy Thompson-Kindem, Mark Thompson, Claudia Thompson, Jennifer Thompson
H.A. Thompson & Sons is a fourth generation family business headquartered in Bismarck, North Dakota, in the plumbing, heating, air conditioning and mechanical rehabilitation industry. Starting with the lone founder Harry A. Thompson, the business has grown to 86 employees at 5 locations. The company has a history of financially supporting community groups and causes including the public schools, the symphony, the aquatics center and the Children's Hospital Neonatal Intensive Care Unit.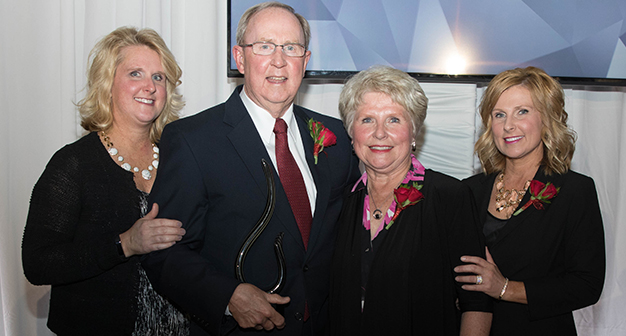 2017 Award Winner Highlight Videos
To sponsor an award or to nominate a family business, please contact us at fba@usd.edu or 605-274-9530.