Inside the modern L.G. Everist Inc.: Fifth-generation business moves into new downtown headquarters
Inside the modern L.G. Everist Inc.: Fifth-generation business moves into new downtown headquarters
When L.G. Everist Inc. became the first business to move into the downtown Sioux Falls Washington Square development this week, it marked the latest in a series of pioneering moves for the more than 140-year-old family business.
It was founded in 1876 during the golden age of railroads by Lucius Garland Everist. An Illinois railroad agent, he got his start in entrepreneurship selling retail coal, which evolved into a wholesale business.
He went west in 1892 and settled in Sioux City. His son, Hubert, carried on the family legacy until he died in 1990 at the age of 103. His sons, Rick Sr. and Steve, led the business from the post-World War II era until 1991.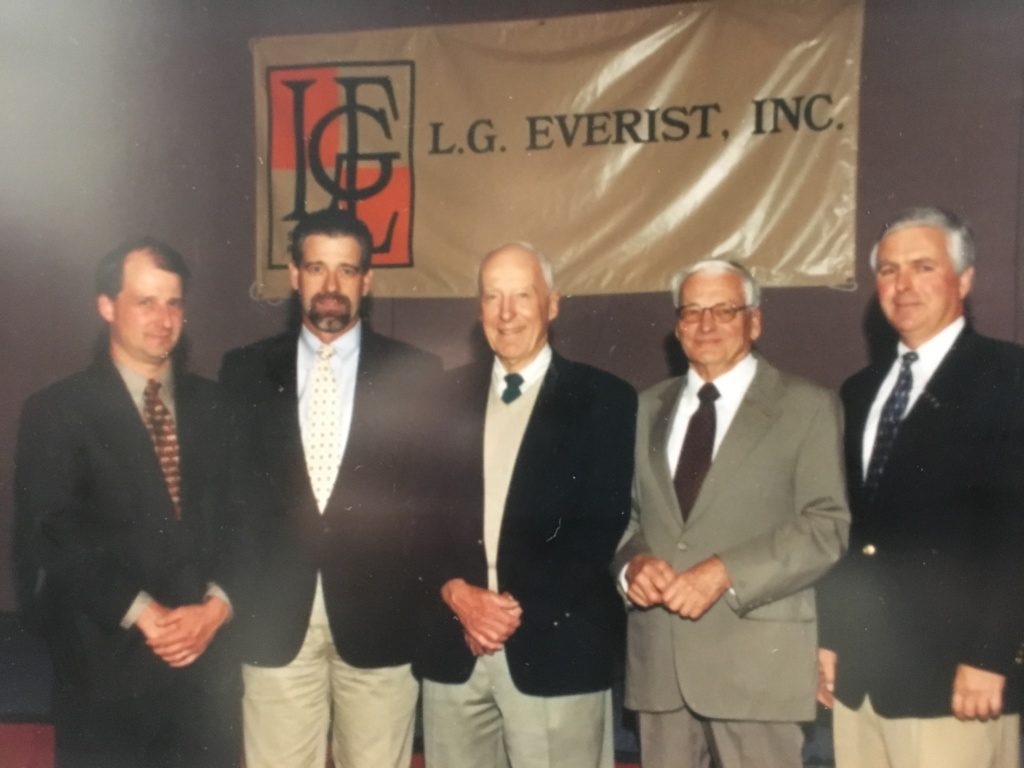 Rick's sons, Rick Jr. and Rob, and Steve's son, Tom, then moved into leadership.
Rob remembers working in the family business at 14.
His father took him to Hawarden, Iowa, where he spent the summer testing material, sweeping the shop and weighing railroad cars.
"It was a blast," Rob said. "That's what I like to do. In most family businesses, it's a common theme that you want the children to understand the business. You can't just come in and be in charge. You have to understand it."
By that time, L.G. Everist was entering its fourth generation and had expanded its business to Colorado and California.
L.G. Everist products support the construction industry, from heavy highway projects to parking lots, plus serve as decorative stone in landscaping. The company also offers railroad transloading for bulk materials and trucking services.
One summer was all Rob Everist originally planned on working there, though.
The family moved to California while he was in high school, and he went to serve 10 years in the Navy.
"I had a Navy career going, had married my wife who was also in the military, and after we decided to get out, I started talking to my cousin and dad and brother, and I came back to Sioux Falls in 1991."
He returned as a foreman, working in the quarry on the operations, and found the family business was the right fit.
"Our rule is you have to go work somewhere else for five years. It's not an automatic job," he said. "The best thing you can teach your children is to go get their own experience and make mistakes and find his own confidence. Because when you come back to a family business that's got your name on the letterhead and signs, there's a lot of pressure. Half the people want you to succeed and half kind of want you to fail. Everyone is watching you. You have to have enough confidence to do what you need to do."
Family transitions
Now in its fourth generation, L.G. Everist has maintained the health of the business in part through deliberate transitioning. In 2002, brothers Rick Jr. and Rob split the business with their cousin, Tom, who formed The Everist Company.
"It was a very amicable split," Rob said.
"It was just time to do that from the standpoint of long-term family strategic planning. That's frankly the demise of most family businesses. It's not that the business can't make money or operate. It's because you have a handful or dozens of nonemployee shareholders and the shareholder base gets too big."
Rick Jr. became president and CEO of L.G. Everist in 2002. He became board chairman a few years ago, and Rob took over the role of president and CEO. They talk daily.
The next generation of the business is Rick's son, Rick III, the company's Midwest vice president. He worked in quality control for L.G. Everist while in high school in Colorado and continued working while at the University of Colorado, operating and maintaining equipment.
"When I graduated college, it's not that I didn't want to go work there, but I wanted to go see another operation, and I worked for a couple different businesses," he said. "Seeing how they were run was really valuable."
In 2011, L.G. Everist offered him a job as a superintendent at an operation in Colorado, "and it was a good experience, very hands-on, and it gave me an invaluable opportunity to understand the intricacies of an operation that produces 1 million tons each year."
By 2014 he had transitioned into a Sioux Falls-based management role. He works side-by-side with his uncle and said that while he enjoys it, he's careful to separate business from family.
"It's something you have to pay attention to. I try to feel and act like just a part of the team."
An affinity peer group through the Prairie Family Business Association has been a helpful source of support, he added. He meets with other members of multigenerational family businesses six times per year.
"We're all in similar shoes. They're not necessarily going through the same things because different family businesses have different dynamics, but to hear other families' stories is interesting, and I hope to use my experience to help," he said. "We've talked about how a board has been helpful for us, and we go through the regional Midwest business climate and common challenges like workforce and HR policies. I look forward to seeing them. I consider them friends and feel comfortable opening up to them."
His uncle agreed it's a valuable resource.
"This is why I like Prairie Family Business so much," Rob said. "People can learn from other families. It's good for Rick and other second and third generations to share stories and concerns."
He serves on the association board, and cousin Tom was one of the founders.
"It's a healthy, nonthreatening group," Rob said. "You have the opportunity to meet family businesses you wouldn't normally meet, and it's just a great organization."
The groups are a key way the association can help support families through generations, agreed Stephanie Larscheid, executive director.
"We're so fortunate the Everist family has engaged with Prairie Family from the very beginning and continues to be such valuable contributors to it," she said. "There are many best practices throughout their history that serve as an example for others, and we know the future is extremely bright for them."
New home
The new corporate headquarters for L.G. Everist is a modern, employee-centered office overlooking downtown from the fourth floor of the new Washington Square building.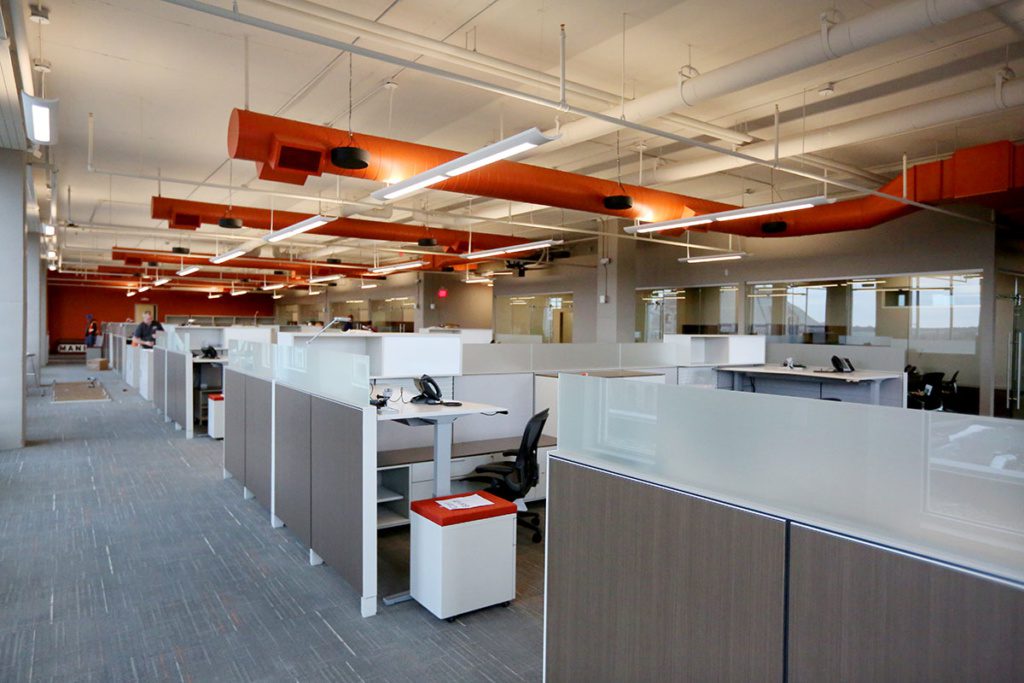 "It's very open with a lot of natural light, and it's got a very nice layout that's going to promote more collaboration," Rob said.
In more traditional office designs, the few offices were reserved for executives while most employees clustered in the middle, he noted. In the new L.G. office, "people who are there in the office, whose jobs don't allow them to come and go, have the best views. We're trying to recognize the people who are working here day to day."
Of the company's 350 workers, about 35 are based in Sioux Falls.
The new office has some space for expansion, and Rob doesn't rule it out.
"We're always looking at opportunities, not only at expanding in our territories and growing but also just to keep improving what we're doing," he said. "The upper Midwest is vibrant, and Colorado is very strong. If the economy is good and things are getting built, you need natural materials."
https://www.youtube.com/watch?v=Kd3eqsOQQEc