Hitting their stride: Family business goes global with Strider balance bikes
Hitting their stride: Family business goes global with Strider balance bikes
Two-year-old Bode McFarland was the talk of the town on two wheels – a little Black Hills bicyclist who started turning heads back in 2006.
"Parents and grandparents were surprised at this tiny boy who could rip around on a bike so well," his dad, Ryan, said.
"Strangers came up asking us about his bike and where we got it. So it wasn't long after that I realized there was a business opportunity."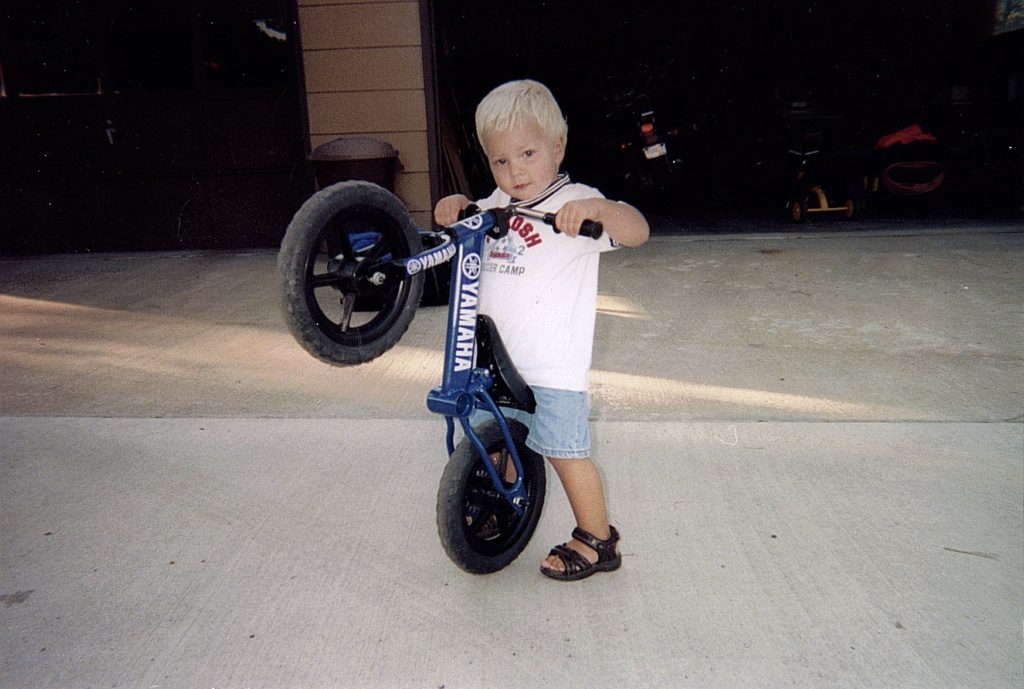 Bode's bike was the brainchild of his dad, an avid mountain biker and motorcyclist who was eager to teach his son to ride.
"I bought the typical products – tricycle, training wheels, four-wheel scooters – but I realized a lot of it was overly complicated, too heavy and just not focused on the fundamental skill I recognized him needing, which is how to balance on two wheels."
The rest reads like an entrepreneurial fairy tale. McFarland began tinkering in his garage, as he puts it, tweaking a design and cobbling together a prototype.
"I've always been real mechanical," he said, adding he had a business in the 1990s developing a suspension system for bicycles that led to a couple of patents before he sold the company and it was licensed to a bigger company.
"I just chopped up a cheap little bike at a local store and came up with the idea in my head, but I didn't have all the tools. I cut the pieces up and drew out what I wanted and reshaped them, and a buddy welded the pieces where I needed them to get it modified."
They painted it up, put some stickers on it, and Bode dubbed it his little motorcycle. Then, the bike took off. Literally.
"He just thrived on it. His abilities progressed rapidly, and consequently my wife and I had a 2-year-old who was very mobile, so we took him everywhere, and people saw it. It was startling to see how much he progressed and how advanced his skills were becoming. It was enough that strangers walked up and asked about it."
He made another small batch, and the result replicated.
"It was startling," McFarland said. "The ability was just dormant in all these little kids, and when we finally got the design right, it released it all."
In 2007, Ryan, his father, Joe, and a friend, Gene Woodle, formed Strider Sports International. The Rapid City-based family business now has sold more than 2 million bikes worldwide.
"It's been a lot of hard work with a lot of people involved," Ryan said. "The first year it was just me working part time and Gene and my dad helping out, and then we hired our first full-time person in 2009, so the first couple years it was just getting things moving."
Father and son had worked together for years in various roles. The family owned a motel in Custer for years.
"I think having a family business was probably my best education," Ryan said.
"The motel was unique in that it's a small family business that's so hands-on. You had to be carpenter, plumber, electrician, landscaper, pool maintenance, customer service, marketing, you name it. You got a little bit of all of it every day. But I think that's what helped me fall in love with business – just the immediacy of things happening every day and how you could effect change."
Building the bike business
The dynamic between Ryan and his dad was the right fit for starting up Strider. They share a love of racing and cars, and had worked together on everything from fun building projects to house renovations over the years.
"My dad was retired but not very good at sitting around, so I said let's get this off the ground," Ryan said. "He was able to do whatever was needed on a day-to-day basis and just step in to keep the ball moving forward."
Joe, who still works in the business almost daily, remembers his reaction when the first large Strider order came in.
"When that first shipment of bikes came in, what went through my head was: What in the world are we going to do with 1,200 little bikes?" he said.
"We were working out of the basement of a building, and the first shipment of bikes had to go in through a basement window to get to the basement. Since then, we've gone through two or three locations, and we now have a huge building. It's amazing. I would have never believed it could happen."
Strider's phenomenal growth can be credited in part to what happens when proud parents in a smartphone era watch their kids succeed: They document it, and they share it.
"Social media was really taking off at the time we launched, and everybody was interested in sharing on their channels. And people like sharing most about their kids – especially when their kids do something awesome," Ryan said. "And our bike was letting kids do awesome things, and parents were super eager to share it."
After building the first dozen bikes by hand, production moved to China.
The core product is a 12-inch bike that parents are encouraged to buy when the child is 18 months old, so by age 2 "the child is familiar and comfortable and riding well, and they can ride that for a couple years," Ryan said.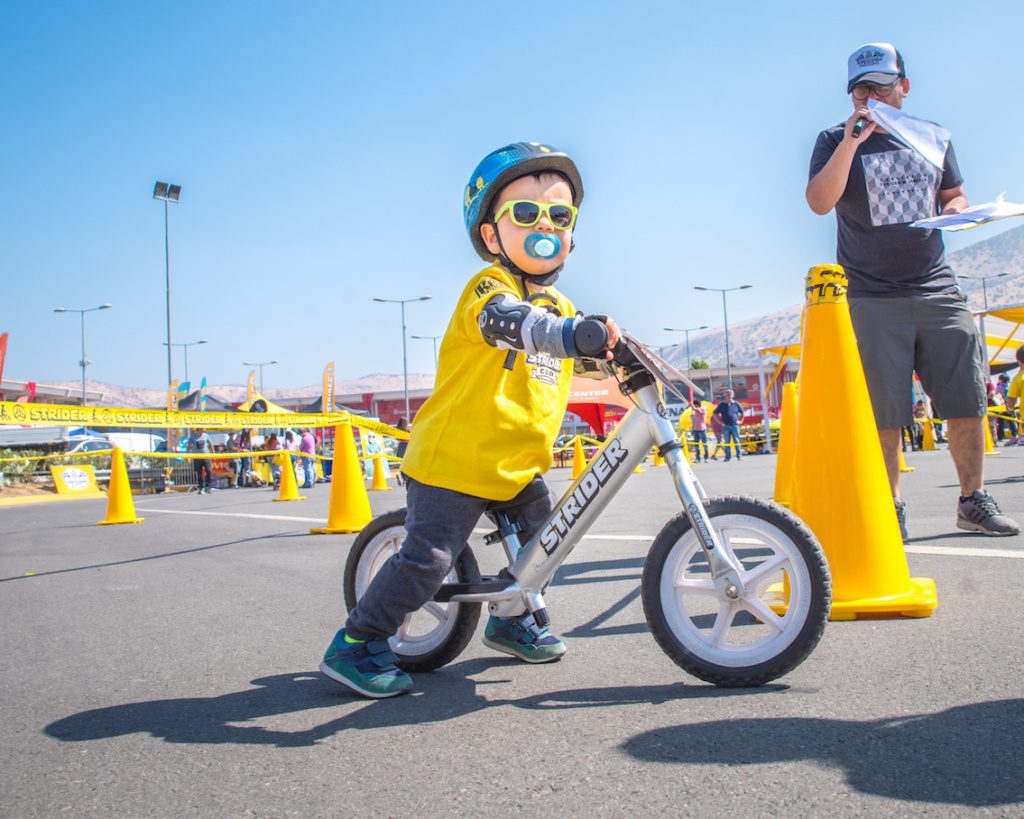 "The 14-inch picks up from there and starts as a balance bike with some unique features to transition to a pedal bike. It's the easiest bike to learn to peddle on worldwide."
And the world seems to be agreeing. Strider has built a global network of franchisees.
"It's especially popular in Asia, primarily Japan which was the first country we entered, but the success has really spread throughout Asia. China is our second-biggest country and will probably surpass Japan at some point just due to the sheer size."
The company still handles all its U.S. sales without franchisees. That includes selling through Amazon, Kohl's, Scheels, Target and Walmart as well as 4,000 dealer bike shops and sporting goods stores.
Foundation for the future
Strider's home base in Rapid City is a two-story, 26,000-square-foot headquarters that is designed to reflect one of its core values: Taking good care of employees is foundational.
The team has grown to 45 people, and they enjoy quite the office.
There's a climbing wall, yoga classes, boxing lessons, weightlifting and – naturally – motorcycle training.
"We just encourage people to live what we are most excited about, which is being outside and active and riding bikes and motorcycles," Ryan said. "So there are usually groups going for bike rides at lunch, and there are always bikes and mountain bikes and motorcycles hanging out that you can ride or learn to ride."
The warehouse has plenty of open space for kids to test-ride Strider bikes, and there are monthly barbecues to celebrates birthdays. It's a dog-friendly, volunteer-friendly workplace that offers a competitive slate of benefits, Ryan said.
Last year, the McFarland family decided to take the entire staff on a trip to North Carolina to watch a NASCAR race.
"I just can't talk enough about them as a company that really practices its values," said Dan Chell, Strider's outreach manager. "It was an absolutely amazing experience."
In 2017, the McFarland family formed the Strider Education Foundation. It distributes Strider bikes and a learn-to-ride curriculum to schools and community organizations that can connect them with kids who could benefit.
"The reality is there are a lot of kids who don't get the advantage of being part of those early adopters, and a lot of kids don't even learn to ride anymore," Ryan said. "This is our solution to come along behind and run sweep and pick up all those kids who didn't learn early and teach them to ride bikes in kindergarten physical education class."
The curriculum also has proven to help individuals with special needs and the elderly learn to ride, as well as increasing confidence, social skills and independence.
"Ryan and Joe are the most generous people I ever met," said Laura Neff, Strider's administrative assistant.
"They give, give, give and give more. They are passionate about changing the world, which they do every day. They have changed my life for the better and the life of my son for the better."
As for his own son, who helped start it all, Ryan continues to lean on Bode to grow Strider.
Now 16, Bode has a summer job in the warehouse. Twelve-year-old brother Jesse has been an integral part of the business, too, with both boys helping test and demonstrate bikes growing up.
"The third generation is involved in the business," Ryan said. "I don't want to pressure them into anything, but we'll see. I could see them certainly having a role in the future."
The McFarland family will open their Strider home to other family businesses next month as the Legacy Tour for the Prairie Family Business Association's 2019 Coca-Cola Bottling Co. High Country Excellence in Family Business event Sept. 23.
"We're so excited to connect our families with the McFarland family and the amazing organization they have built," said Rebecca Zabel, the association's business development manager.
"It's a fantastic example of an innovative multigenerational business growing on a world stage."
As for where Strider's growth could take it, the McFarland family is taking things one child and two wheels at a time.
"I never really spent that much time thinking about how big it could be," Ryan said. "But I saw there are 4 million kids born in the U.S. every year, and I figured that was enough potential for me. As far as I'm concerned, we're still scratching the surface."