Generations of entrepreneurs celebrate 95 years in family banking
The first one in the door every morning at BankStar's Elkton branch is 96-year-old Jack Hegerfeld.
"He comes in about 6:30 a.m., opens up the door and prepares the bank for the day," said Jack's son, Chuck.
Then, it's time for coffee to catch up with the locals, and after that it's back to the bank to check the mail until it's time to head home for lunch.
By early afternoon, he's back in the office, where he's known to check the balance sheet of his family-owned bank regularly.
"You've got to keep going to stay alive," joked Jack, who turns 97 in November. "If you retire, you die."
He acknowledges he likely won't ever retire and doesn't take much credit for doing anything himself. He still drives himself to work and takes care of his own home.
"The good Lord is good to me, I guess," he said.
He stays at work until about 3 p.m.
"It's invaluable wisdom, in my case, to be able to bounce things off of him, especially if there's a need to go way back on certain issues or people," Chuck said. "There's a wealth of knowledge there."
His father said they do talk through various topics but "not too much anymore."
"He's pretty capable," Jack said of his son. "He takes care of everything. And the community has been very good to the bank."
Longevity is part of the bank's legacy too. BankStar Financial reached its 95th anniversary this year – 95 years of "Banking Bright."
Founded by a group of investors in 1926 as Corn Exchange Bank, it continued under that name until 2001 when it expanded to Brookings and later to Volga.
Jack Hegerfeld, who began his career as a farmer, has worked at the bank since 1950. He was an investor in it in the 1970s who ultimately became majority owner.
"The legacy he's provided and the hard work he's shown is a huge thing he's passed down through the generations," said granddaughter Amanda Lauer, a bank vice president who oversees several elements of operations, including marketing.
"He's just someone to really look up to who has been a bright spot in many of people's lives."
Fittingly, the bank's motto is "Bank on the Bright Side," and it's one the family business has tried to lift up through community involvement.
"That's one thing we've always focused on and are going to continue to focus on as we grow to stay true to our roots," Lauer said.
Building the bank
Chuck Hegerfeld returned 30 years ago from California, where he worked in financial services, to join his father at the bank.
He credits working on the farm during high school and college for helping him gain the experience needed to work with many of the bank's ag-related customers.
"Building relationships is what it's all about and being there through the good times and tough times," he said. "That's key to local community banking, and it's the difference between that and the big banks of the world. And we like the independence that local ownership brings and the responsiveness and flexibility we can bring to our customers."
In 2002, the bank expanded to Brookings, which included a capital drive resulting in many local shareholders, including some employees.
While Hegerfeld's office is in Elkton, Lauer, who is his niece, and his daughter Becca Jurgens, a personal banker, are both based in Brookings.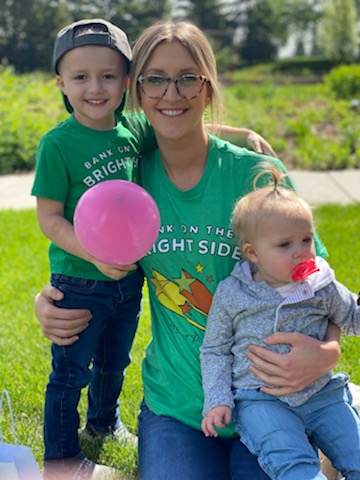 Becca Jurgens
Lauer recently joined the board of directors, along with additional new board members, as her grandfather and another outside member transitioned off.
She began her career at the bank helping clean offices while in high school.
Amanda Lauer
"I went off to college and took up studies in horticulture and landscape design and never thought about coming back to work at the family bank," she said.
"Following graduation and working in that industry for a few years, I decided to move back to Brookings and attend SDSU for business-economics. After I graduated with my business-economics degree and working for a few local companies where I was able to gain knowledge in this field, the Brookings office really started to grow, and it all worked out in my favor."
Branching out
In addition to growing the bank's presence in the area, other family members have evolved one of Jack's additional ventures. A licensed real estate agent who dabbled in transactions, he formed Hegerfeld Agency in 1955 to handle that side of the business.
Lauer's siblings, Megan Hammond and Jackson Hegerfeld, evolved it into Advantage Land Co. in 2008, and they are land brokers, auctioneers and land managers in South Dakota and Minnesota.
Their parents, Fred and Laura, also are active in the businesses.
"They've really taken the business to the next level since 2008," Hegerfeld said. "They focus on ag real estate and recreational properties and have become quite successful with it."
Advantage Land Co. also recently opened a new office in Brookings and has sold more than $120 million in cropland, ranches and hunting properties in recent years.
Connecting with others
The Hegerfeld family also has benefited over the years from connecting with other family businesses. BankStar has been part of the Prairie Family Business Association for the past decade, and "a lot of the resources and personal connections have been very helpful to our organization," Lauer said.
"Their annual conference is one we don't miss. I think no matter where you are in your organization as far as succession planning or day-to-day challenges you may face, there are always resources available to you, new things to learn and people who can help you."
Hegerfeld also described the annual conference as "excellent" and praised his Affinity Peer Group through the association for serving as an additional resource.
"There are about eight of us who come together quarterly or so and bounce issues off each other and try to help each other solve family business issues, whatever they may be," he said. "That's been really helpful and beneficial to me."
Lauer recently increased her involvement with the association as a new member of its advisory board.
"The resources and relationships are endless, and there are such good people who are part of that organization," she said. "Our executive director, Stephanie Larscheid, is an amazing leader. When it comes down to it, family businesses just have a different feel as far as the passion behind it. You put your heart into everything, but you still want to go to Thanksgiving dinner and be able to enjoy your family and make those memories as well."
She credits both the association's support and close-knit nature of her family for helping them achieve that balance throughout the years.
"When challenges arise, they've been able to provide the resources to help us grow and overcome things before they happen or in a more healthy way."
The Hegerfelds are valued members of the association, Larscheid added.
"They're a wonderful family, and we've been so grateful for their leadership and willingness to lend their expertise to others," she said. "It's not often we see so many generations working so well together in a variety of business operations, and they definitely show it's possible with the right approach."
As it nears a century of business, BankStar isn't slowing down, Hegerfeld added.
"We're continuing to grow organically and look at what other opportunities might come our way," he said. "That could include working with other community banks with growth goals similar to ours. We're interested and talking about opportunities to grow."